Guide To Different Types Of Motorcycles For Beginners
The motorcycle is a very economical and convenient mode of transportation. In many complex terrains and road conditions, it is more flexible and easier to get through, and riders can feel nature more clearly, and they will meet many people and scenery on the way, which will give them a lot of sincerity and touching.
So there is a wide range of different types of motorcycles in the world, some of them are very vague in terms of definition, so it is difficult to categorize them clearly. But generally speaking, it can be divided into two types clearly, one is a on-road bike (Ordinary motorcycles can be rode on the street or highway ) and the other is a off-road bike (Specialized racing cars that cannot be rode on the road).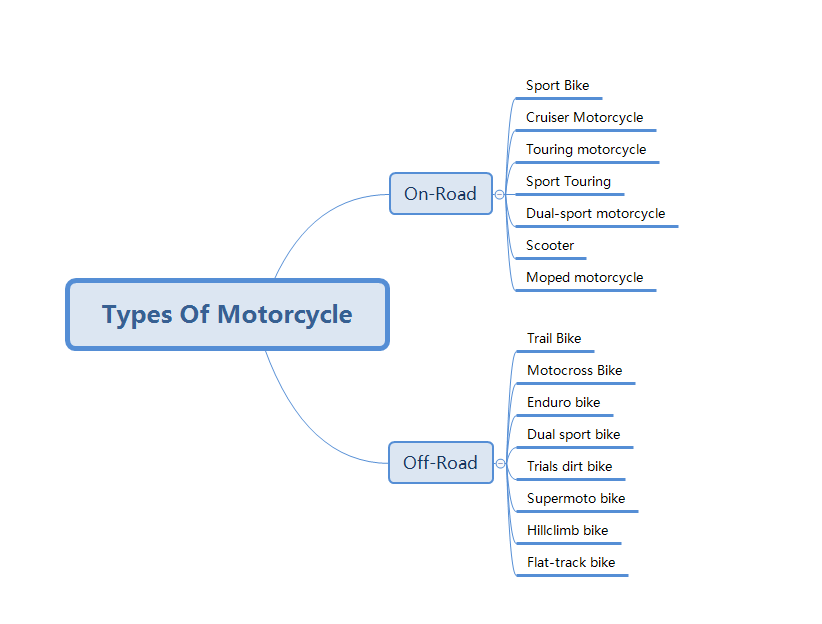 The on-road bike includes:
Sport Bike
Cruiser 
Touring
Sport Touring
Dual-sport
Scooter
Moped
And there are 8 common types of off-road bikes:
Trail Dirt Bike
Motocross

Dirt 

Bike
Enduro

Dirt B

ike
Dual sport d

irt 

bike
Trials dirt bike
Supermoto d

irt

 bike
Hillclimb d

irt 

bike
Flat-track d

irt

 bike
Maybe this article can't tell you how to choose the right motorcycle for you, but it will give you a general understanding of the classification of motorcycles. If you are a beginner to ride a motorcycle, i guess this will help you a little. If you have learned something or want share something, please write down your opinion.
Below is some introductions to some types of motorcycles:
Sport Bike:
Sports motorcycle design is driven by the pursuit of sports performance: racing-level acceleration and top speed performance, the best braking power, and the handling and cornering ability at the expense of comfort and practicality.
Sport bikes are made from lots of aluminum and lighter materials to gain speed and increase side-to-side maneuverability. The most distinctive feature is its forward-leaning design and racing style fairings, which provide an aerodynamic model reducing slowdown. 
A modern sports motorcycle is an affordable racing machine that the ordinary person can access. Under the control of a professional biker, an original Yamaha YZF-R1 and a YZF-R1 modified to participate in the national league are only about 2 seconds apart in a single lap of the same track. 
So we can say that the sport bike is a reduced version of a motorcycle racing motorcycle that can be legally driven on the road.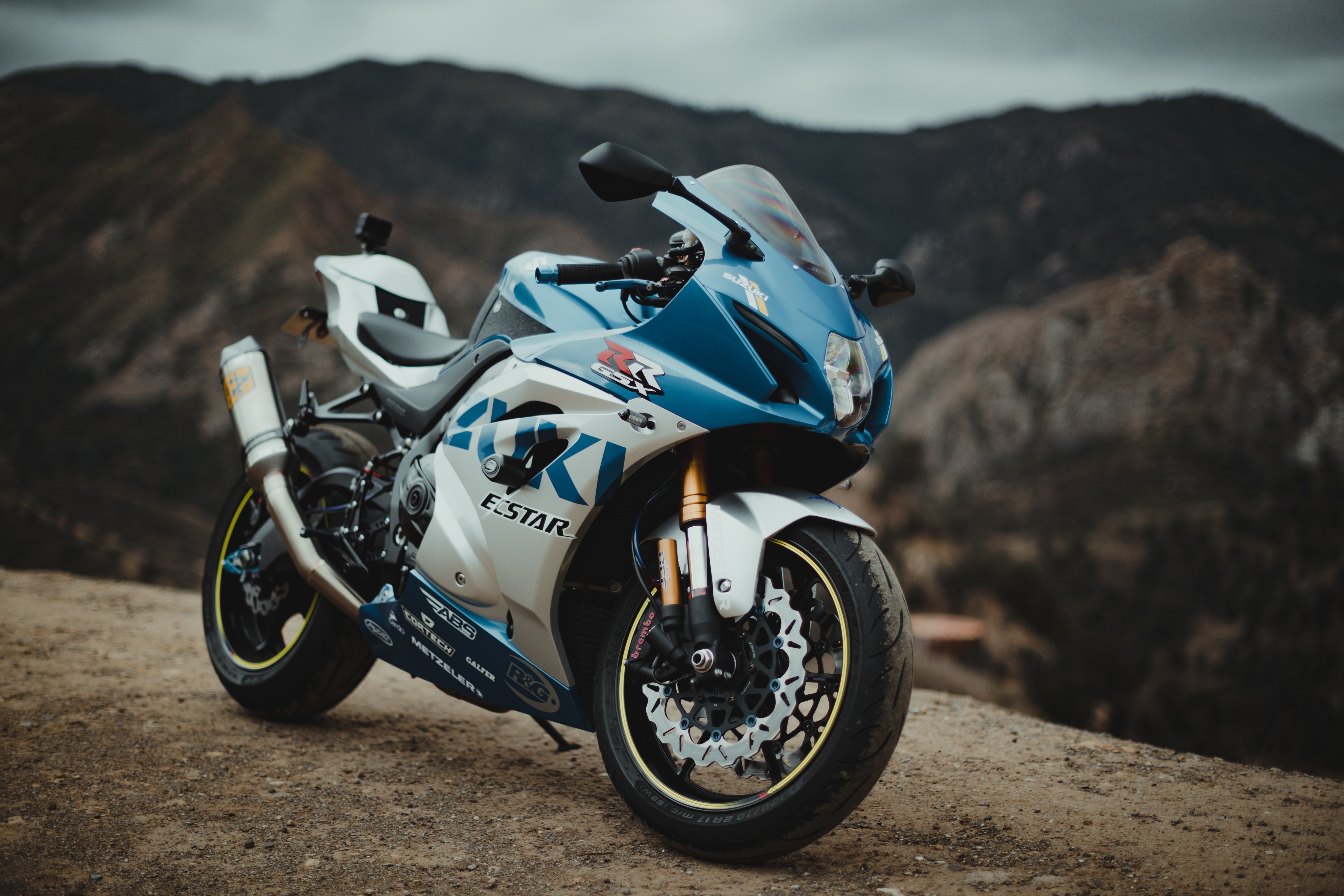 (Pic from unsplash)
The main criteria for judging sport motorcycles:
 High-performance engines, the tuning is biased towards high-rotation power output, rather than low-mid-torque output like on-road tuning, the same engine may be adjusted to have completely different engine characteristics on sports motorcycles and on-road bikes.
Lightweight, sport performance-oriented frame.
Fully enclosed shell (air shroud).
Low and forward split handlebars.
Lean forward horizontally, sporty riding position, easy to get tired after long-term riding.
Cruiser (Chopper) Motorcycles:
Cruiser Motorcycle is a classic American-style bike, there is no a doubt that it is one of the coolest-looking and casual-riding motorcycle types on the market.

The common feature of cruise motorcycles is their lower sitting height, this is for seeking a comfortable riding posture. The pedals of the cruiser are in front of the engine as well as the gear pedals; according to the type of handlebars installed, the posture of the rider can be controlled whether to sit upright or lean forward. Speaking of which, Harley motorcycles definitely will come to your mind. Of course it is, however, cruise motorcycles are not only Harley models, but also include: Indian motorcycles, Honda rebels, Yamaha Royal Star, Kawasaki Vulcan, etc.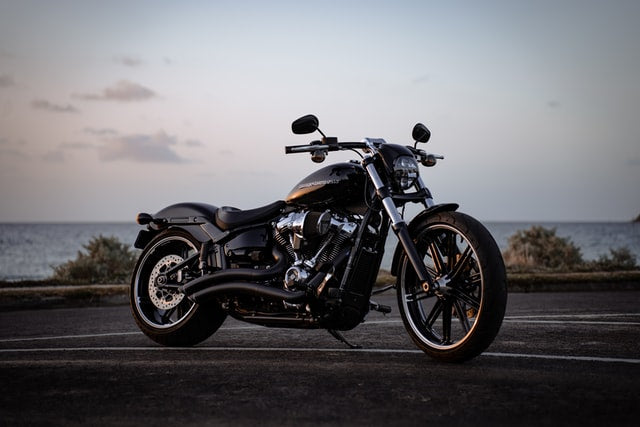 How to judge if a motorcycle is cruiser?
A low seat height with the gas tank slightly above it, and mid or forward foot controls.
Here is some Harley Motorcycle Parts
Touring Motorcycles:
The feature of the Touring type of motorcycle is LARGE. They are typically larger with a large-displacement engine, a large-capacity oil cylinder, spacious luggage space, and a streamlined fairing and goggles to block the wind and weather when riding.  The touring motorcycles are designed for long journeys, so they are always equipped with comfortable seats to ensure you don't get sore from extended riding trips. If you are looking for the best type of bike for some cross country treks, you can't do much better than a touring motorcycle. They can be the greatest choice for a simple trip or a  weekend tour.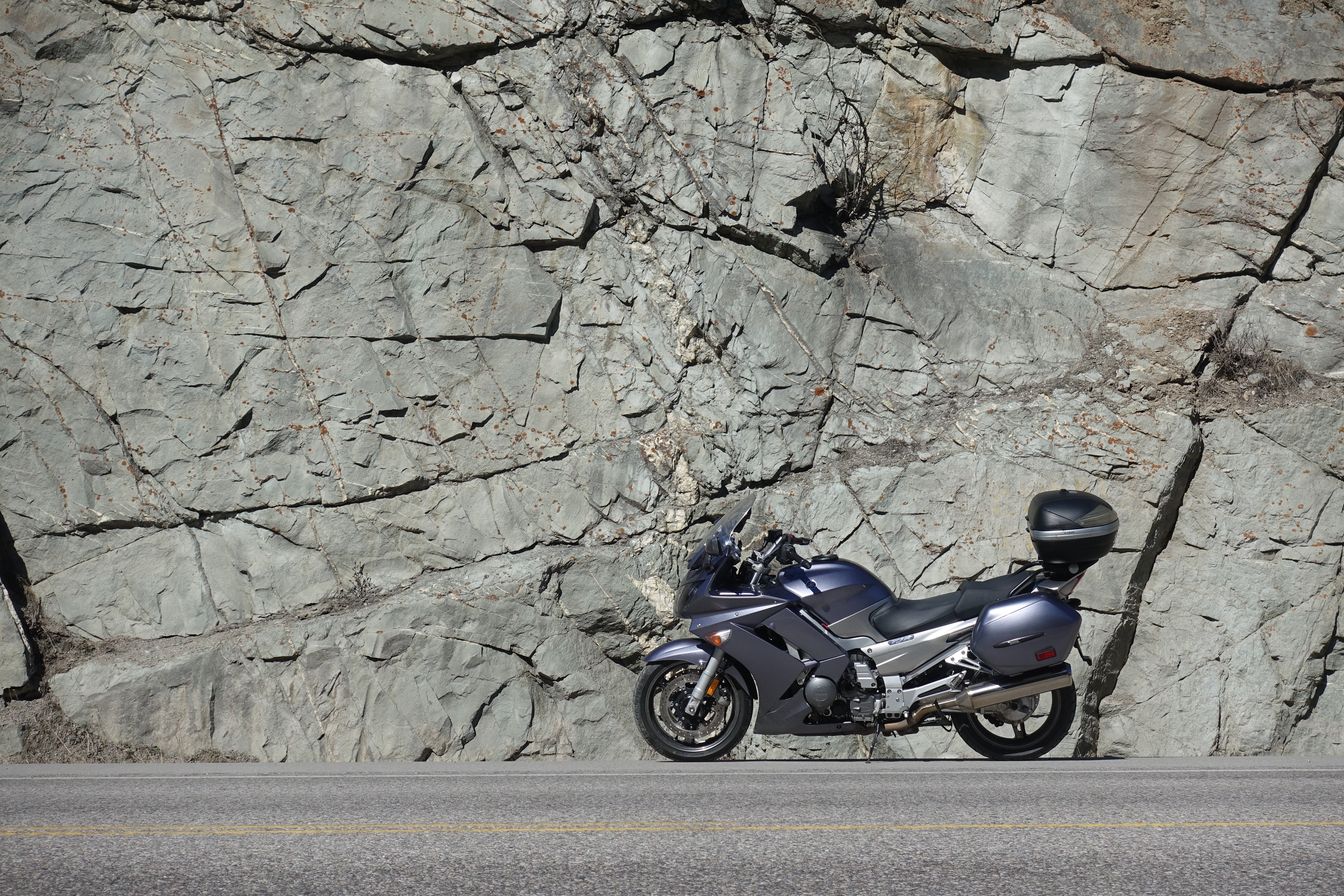 How to tell if a bike is a Touring Motorcycles
A soft seat and the handlebars are placed at a perfect height
Tons of Storage
Larger Gas Tanks
Sport Touring:
The Sport Touring motorcycles are the Sport plus the Touring, just like the name. It has the characteristics of sports bike and touring motorcycles: On one hand, it emphasizes the versatility and carrying capacity of motorcycles, which is more ergonomic than sports motorcycles; On the other hand, it is usually taller in seat height and it has lighter and more flexible handling than a Touring motorcycle.
If you don't want to lose the comfort to gain speed, a sport-touring motorcycle that has the perfect cross of a high-performance sport motorcycle and the comfortable touring type will be an ideal choice for those of you who can't decide between the two.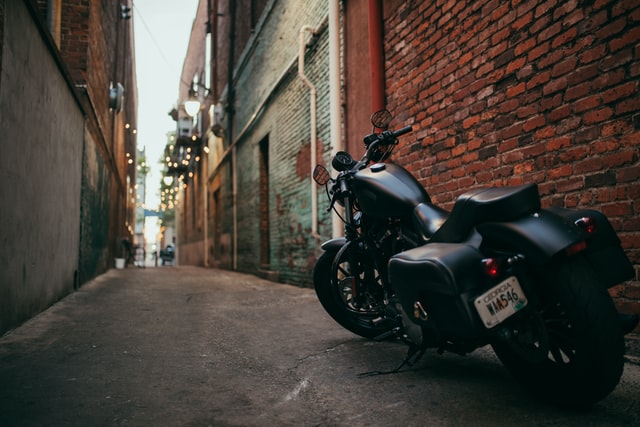 The mehods for judging sport-touring motorcycles:
Judging on the basis of the Touring, Sport-touring motorcycles offer a more relaxed, upright seating position and far more storage space. 
Dual-sport Motorcycles:
In general, the dual-sport is an on-road bike as well as an off-road bike.
In many countries, certain types of off-road motorcycles are not allowed to run on the road due to factors such as emissions and safety. Therefore, manufacturers have developed the so-called dual-sport, which makes off-road bikes can be ridden in cities. 
Although they have the road features, at the same time, they have more aggressive off-road suspension and possible knobby off-road tires as the typical dirt bikes, so they don't feature large storage space, but you can bring some extra bags to carry quite a bit of gear by yourself custom.

With a taller seat height of a dual-sport bike, there will be more comfortable when driving off-road. Dual-sport motorcycles are the most practical option in rural areas, they are regarded as a necessity when driving on unpaved trails.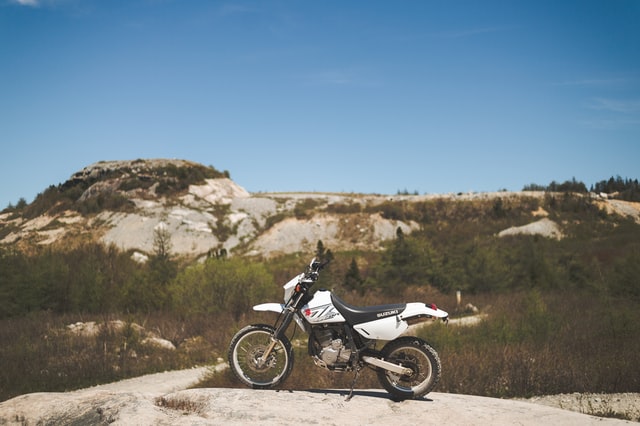 Some Type of Dual-sport ( Motorcycle parts)
Scooter Motorcycles:
Fundamentally, a scooter is a motorcycle with a different frame than a typical motorcycle. People can put their feet on the frame of the scooter. Scooters are mostly automatic transmission, people feel more convenient when riding because he doesn't have to worry about gears. Even the brakes are on the handlebars, so there's no need to hit the clutch when slowing down.  Most scooters today have four-stroke engines and self-starting by imitated motorcycles, which has become a feature of scooters. Riding a scooter is so comfortable and safe. So if you are a fresher, this will be a good choice to start riding bike.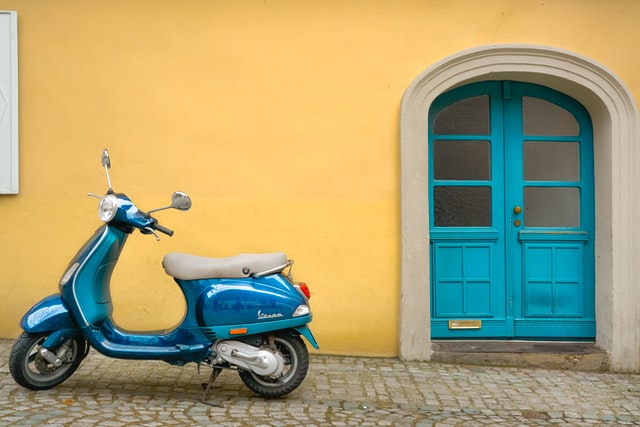 Moped Motorcycles:
At first sight, the moped motorcycle is the same as a scooter motorcycle, but they are technically different. The Moped with a retro look has a smaller engine than other motorcycles. Their lightweight design and easy control make them popular for an entry-level motorcyclist.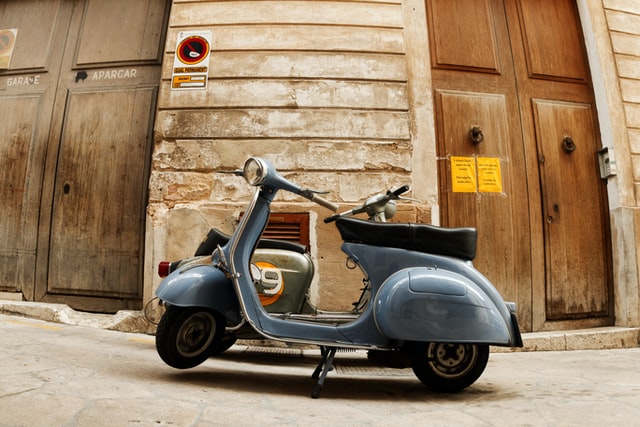 Off-road Motorcycles:
The name "Off-Road" is translated from French according to its meaning, and It is also as known as dirt bikes and MX. As it literally means, this kind of motorcycle is driven on the wilderness road that is not conventionally paved, such as sand, gravel, a river, mud or snow and etc. It is a special motorcycle for competition, so there is no lighting equipment. The stroke of the suspension device can reach more than 30cm. It is good at jumping and can withstand severe impacts. The body should be made as light as possible, and a high-power engine is installed. The two-stroke engine is mainly used. There are also four-stroke engines. The front wheels ( usually 21" ) are large and the rear wheels are small (18"). So the off-road bikes are lighter and more flexible compared to on-road motorcycles.
Trail Dirt Bike:
A trail dirt bike is a lightweight off-road bike that is intended for riding on trails. It typically has a lower seat height or lacks seating to make it easy for riders to put their feet on the ground. The trail bike is welcoming to beginners due to its non-expensive price and easy-maintaining.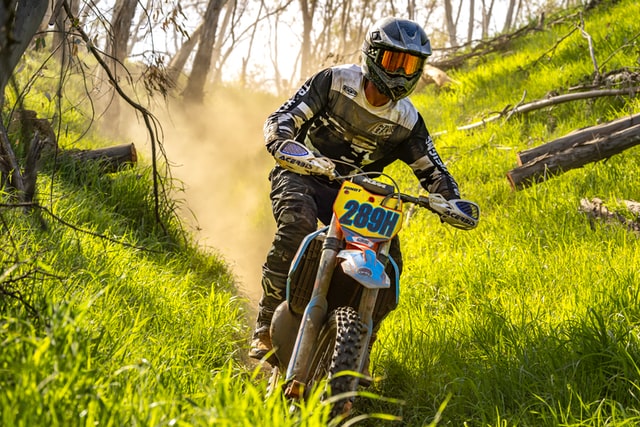 Motocross Dirt Bike:
A motocross bike is specifically designed for off-road racing like the AMA Motocross Championship and AMA Supercross Championship in the United States, FIM Motocross World Championship, and British Motocross Championship.

The motocross has a more powerful engine that provides strong acceleration for climbing steep hills. In order to get better acceleration and speed, they use slightly lighter materials. Since motocross motorcycles are rode on tracks which have sharper turns and twists, their gear ratios are narrower, which can encounter longer stretches.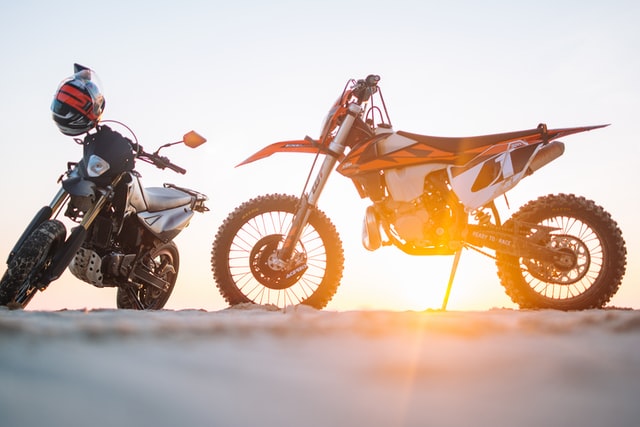 Enduro Dirt Bike
Enduro Motorcycles has been born over 100 years, the first appeared at the ISDE held in 1913 at Carlisle, England. With the rise in the popularity of endurance racing, some small-scale formal endurance races have begun to appear in various countries and regions around the world. They have oversized gas tanks, engines tuned for reliability and longevity, sump protectors, and more durable components. With higher horsepower than other dirt bikes, they are high performance and provide more speed for riders.
Enduro models are between XC and DH: the front fork travel is shorter than DH, which is between 160mm and 180mm, while the fork travel of downhill bikes is often around 200mm. In addition, compared to XC, the enduro configuration is about 6 inches. The rear shock is also commonly known as the "soft tail".The track conditions faced by enduro races are most of the downhill sections and many small flying bags and sharp corners. The hardtail design of xc is often overwhelmed. Because of these factors, it has created a unique model of Enduro.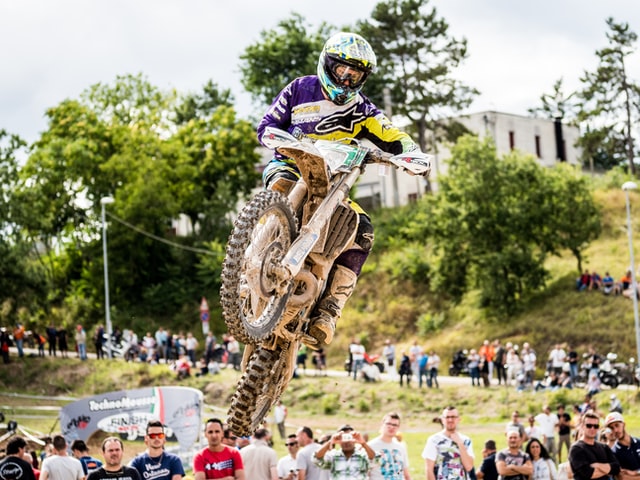 Dual sport dirt bike
As I mentioned above the Dual sport dirt bikes are versatile motorcycles that can be used both on off road or on roads.
Trials motorcycles
It can be understood as "climbing" or "extreme, stunt" motorcycles. It is a special model for motorcycle technical racing. 
Motorcycle Trials is a non-speed event popular in the UK and Spain that tests a driver's control of the throttle, balance and machine. Riders need to stand and drive motorcycles across various designed terrains, and the results are judged by the number of times the competitors' feet step on the ground.
The Trial events originally originated in England in the 1910s and became professionalized in the 1960s and 1970s.
What makes modern Trial models unique is that they are designed for stand-up riding, lacking a saddle, while being very lightweight and having short suspension travel.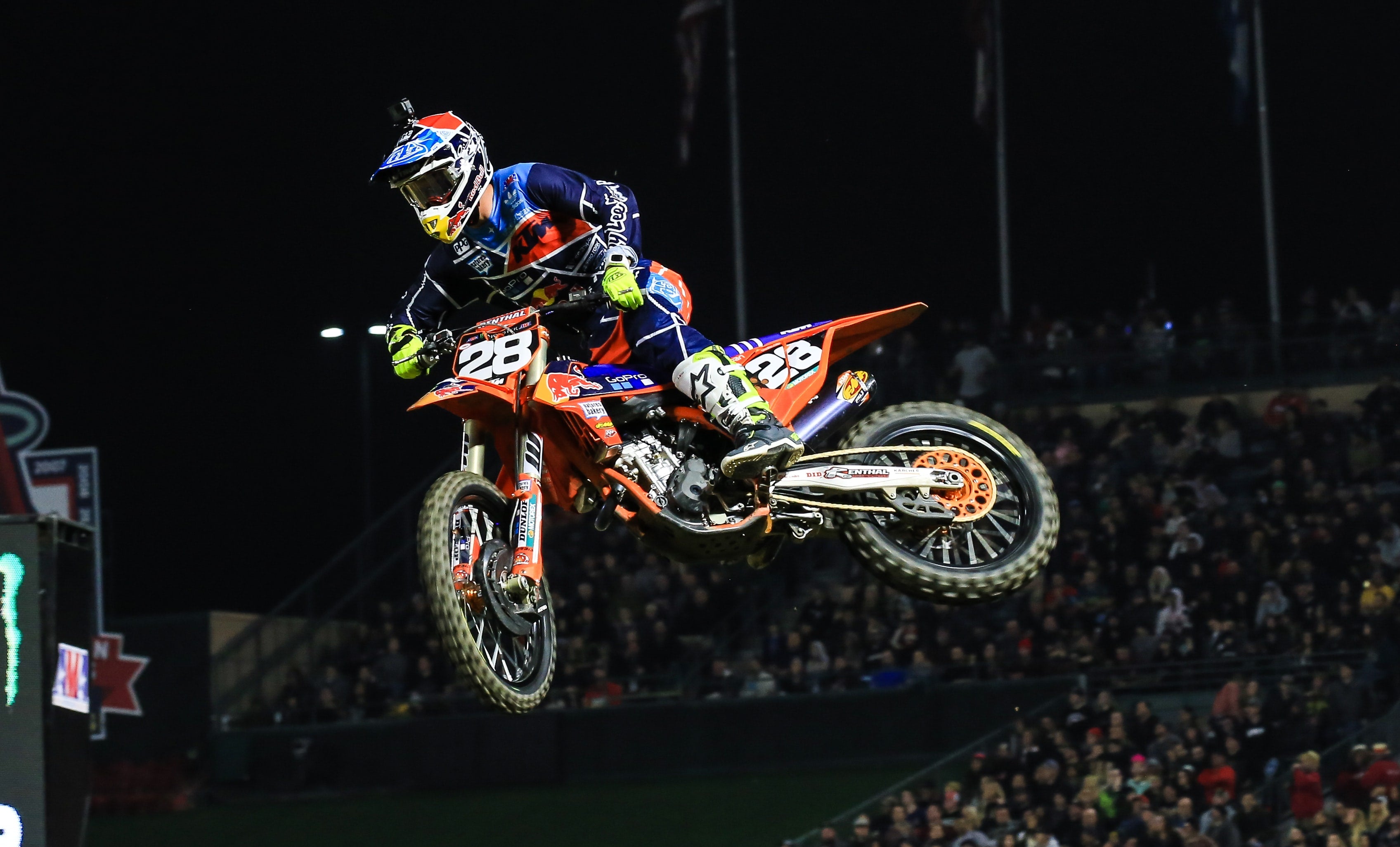 Supermoto dirt bike
Before the 1990s, the Supermoto was basically a two-stroke endurance racing bike with lightweight and excellent cushioning performance. Later, they gradually developed into single-cylinder four-stroke off-road vehicles equipped with 17-inch wheels and sometimes 16.5-inch wheels. The front rim can fit the 7.0-inch slick tires used in road races. This design also enables Supermoto to exert a better grip on asphalt roads.
At the same time, due to the special body structure of off-road vehicles, the handling experience of the Supermoto is completely different from that of any other motorcycle, especially when cornering. Drifting is a bit difficult but full of fun. High-speed gliding through the corners is also the charm of Supermoto.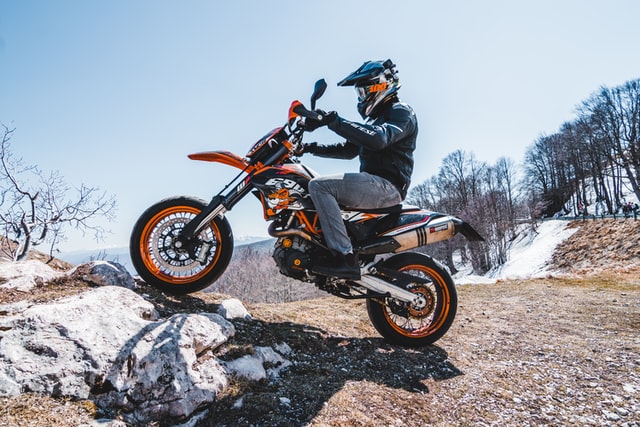 Hillclimb dirt bike
Hillclimb is used in a drag race up the face of a steep hill.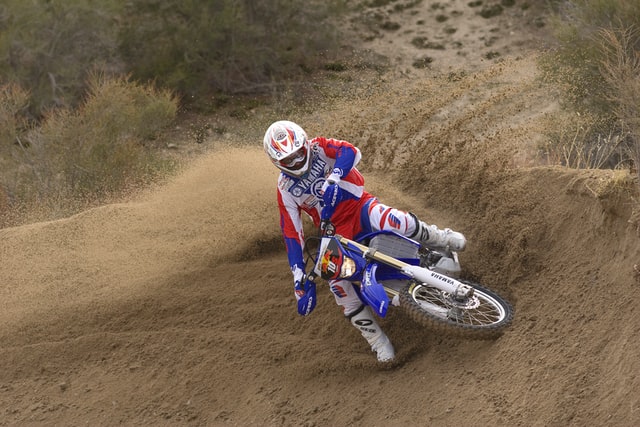 Flat-track dirt bike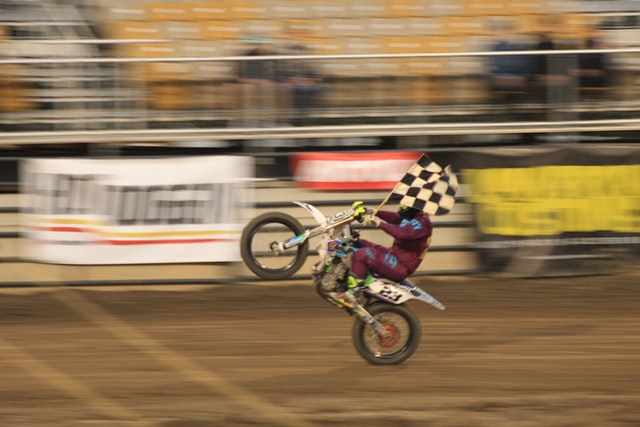 Now that you've got the first impression of different types of motorcycles, feel free to check out some of our motorcycle parts you might wanna know, here is the link guidance: