The Best Storage Bags For Your UTV 2022
Why Sorage Bags Are Important For UTVs
       As we all known, UTVs are off-road vehicle, we often use it to go for a campagin on the weekend in the wild or on the beach, in this case you need to storage some food, sleeping bag, water and some other articles for daily use.
       Sometimes, UTVs are used on long endurance races through rough terrain, which means you need to be prepared for anything, especially breakdowns. With a breakdown comes the need for repairs, having UTV tool kits on hand becoming so significant.
       Besides, when you riding utv with galloping speed, valuable objects might be lost during the rides.
       Imagine that if you don't have the storage bag for your UTV, where will you put the phones, keys, water bottles or tool kits in? That will be messy.
So Nicecnc Storage Bags will be the best choice for utv owners.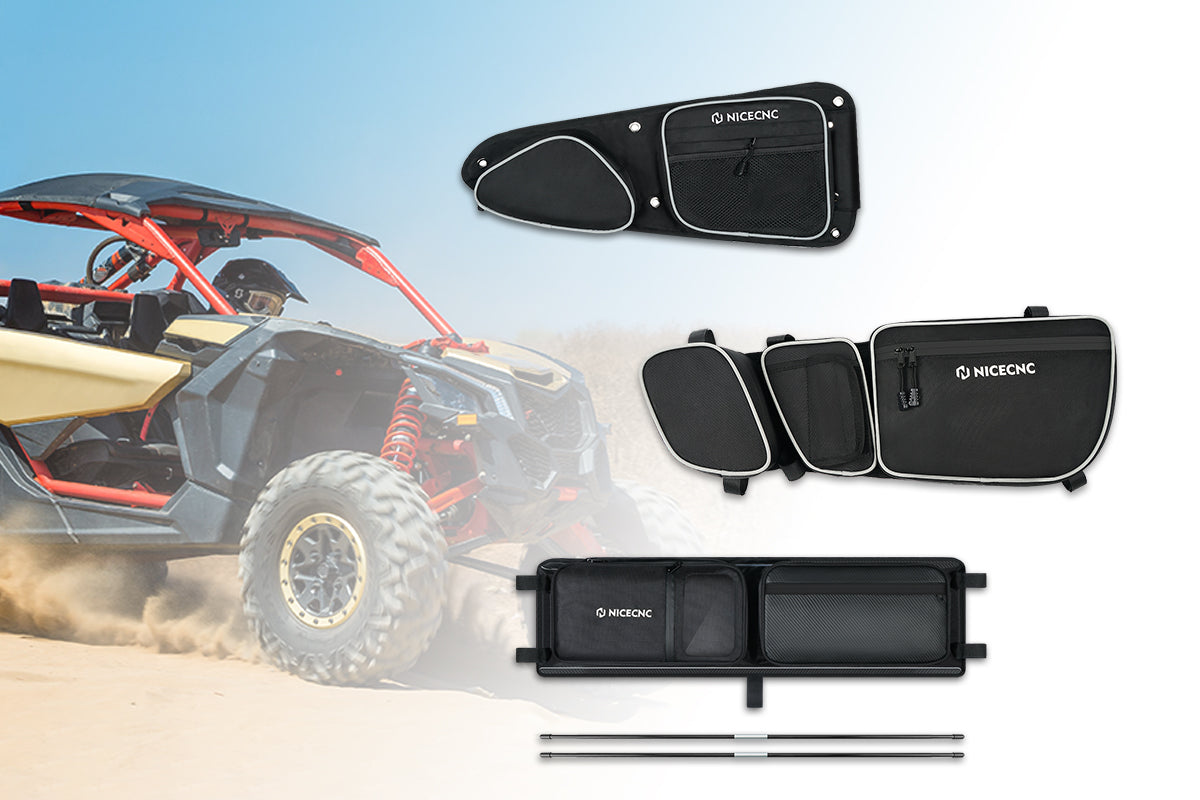 3 Resons Why You Need To Choose Nicecnc Stoarge Bags
Large Capacity:
The UTV storage bag is great for large capacity storage and easy access and won't get in the way of rearview mirror. With 4 large storage compartments (including a 8.5*14cm transparent film bag, one plus compartment if you attach the given Velcro separator), it can store tools, cell phone, map, notebooks, drinks, food, tablet, glasses, snacks, etc, which will keep your UTV clean and tidy and providing extra space.
Premium Materials:
The front side of our RZR Storage Bag is made of 1.5mm thickened 1680D Oxford Fabric, durability, stretch-resistant, and the back side of the bag use special material PU polyurethane, high sealing, IPX6 waterproof level. Backing and exterior coating provide maximum weather and abrasion protection, keep your valuables securely protected from the elements in durable waterproof pockets.
Long Usage Life:
Nicecnc UTV roof bag owns reverse waterproof zippers, constructed from high-quality SBS material, sturdy and durable, not easy to damage. The reverse zipper designed with a PU material sealing to prevent rainwater from entering interior directly, also keep out dirt and dust, avoid the zipper from being stuck, greatly prolong the service life.
How To Install The Nicecnc Storage Bags
RZR Overhead Storage Bag UTV Storage Bag
UTV Front Door Side Storage Bags
RZR Front Lower Door Side Storage Bags