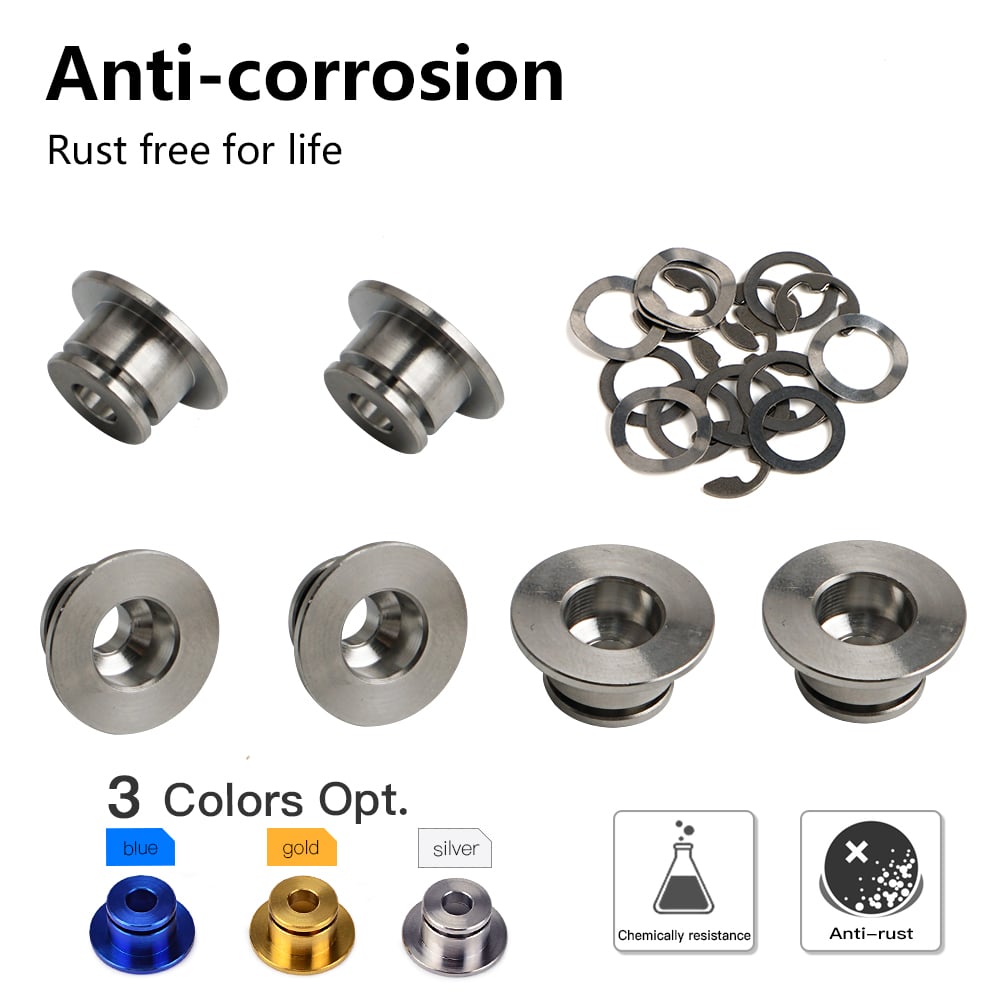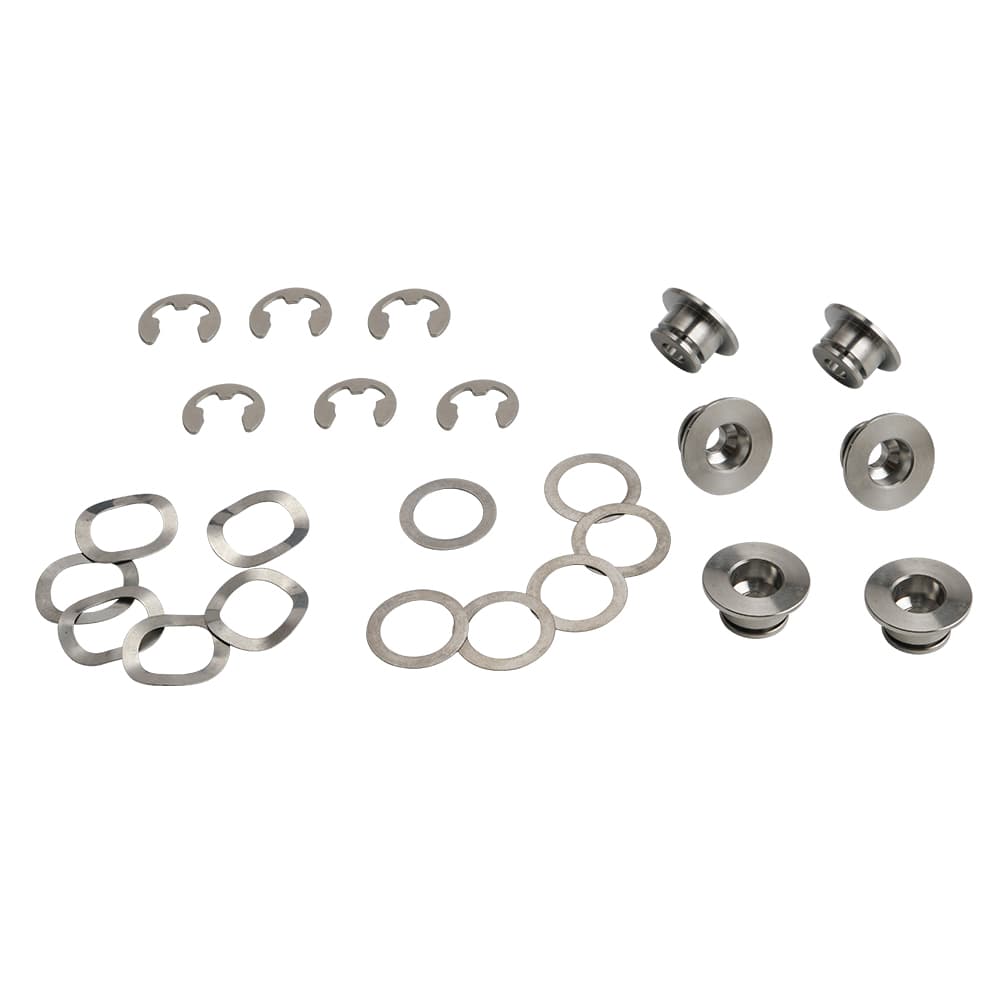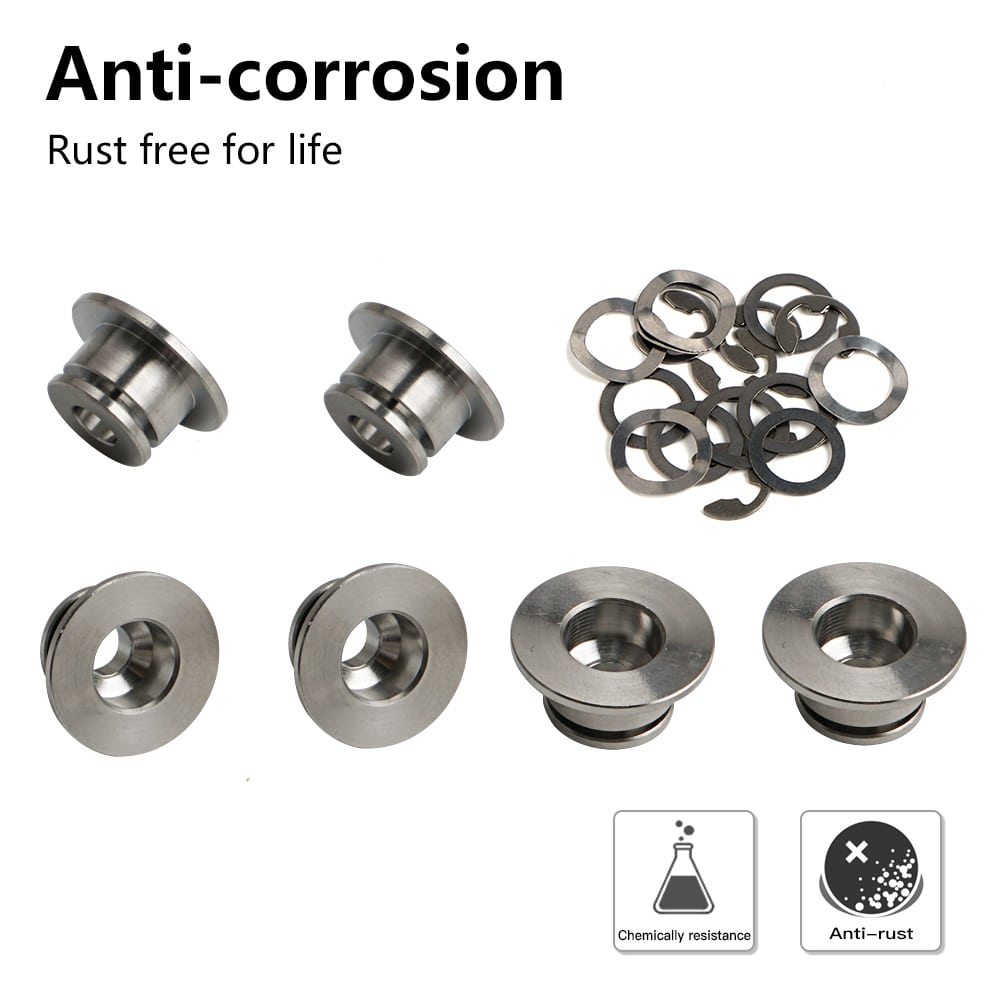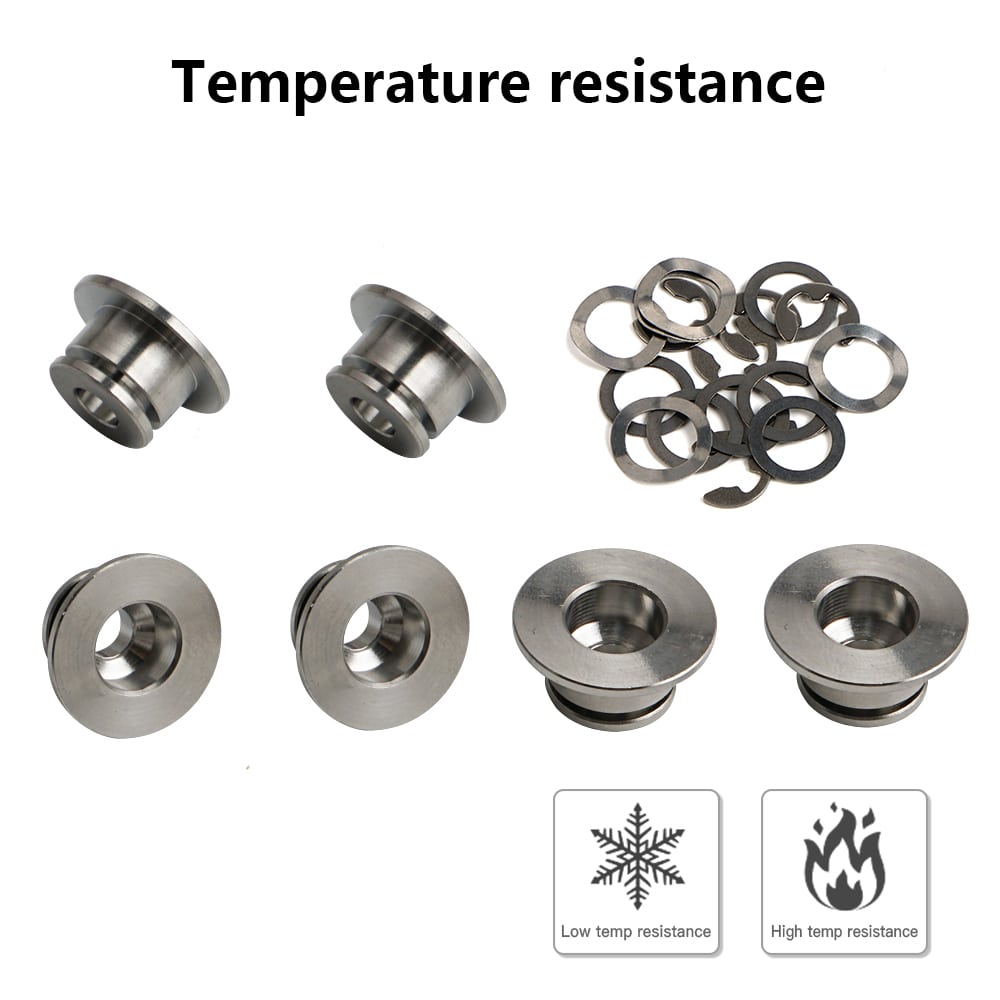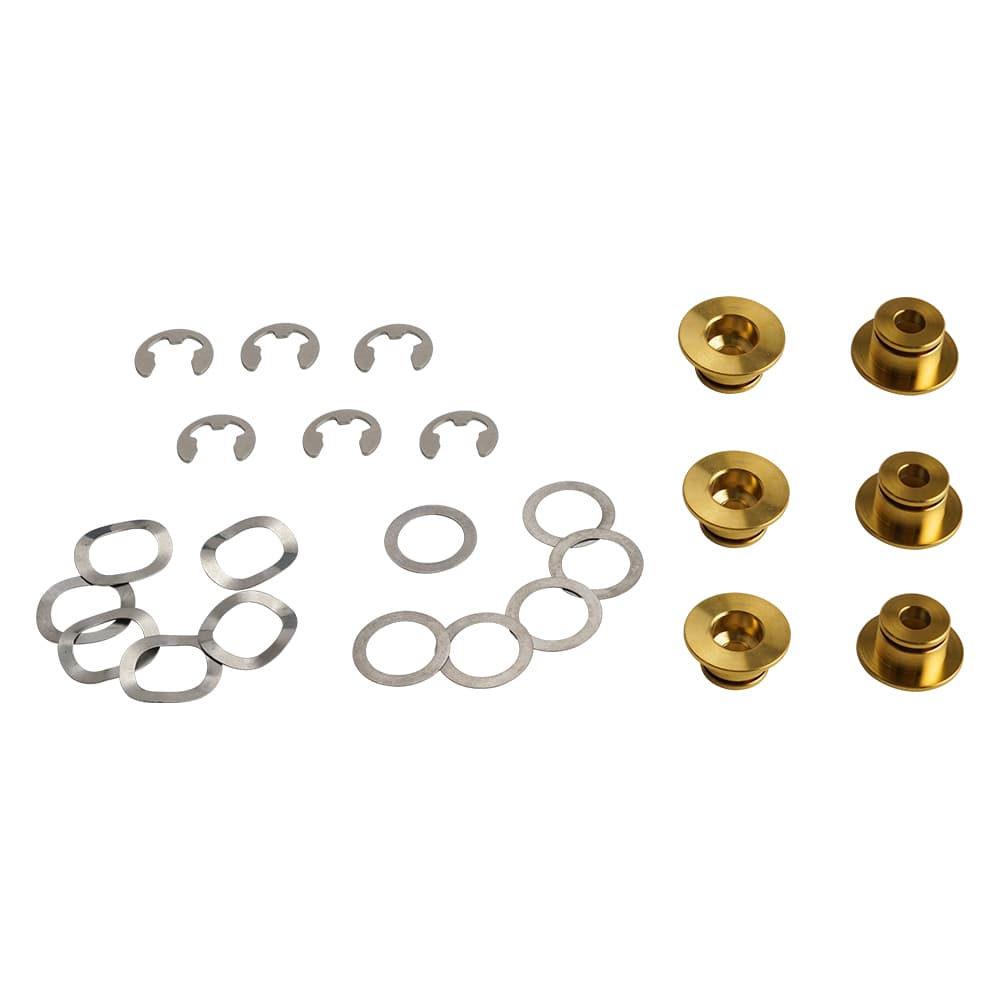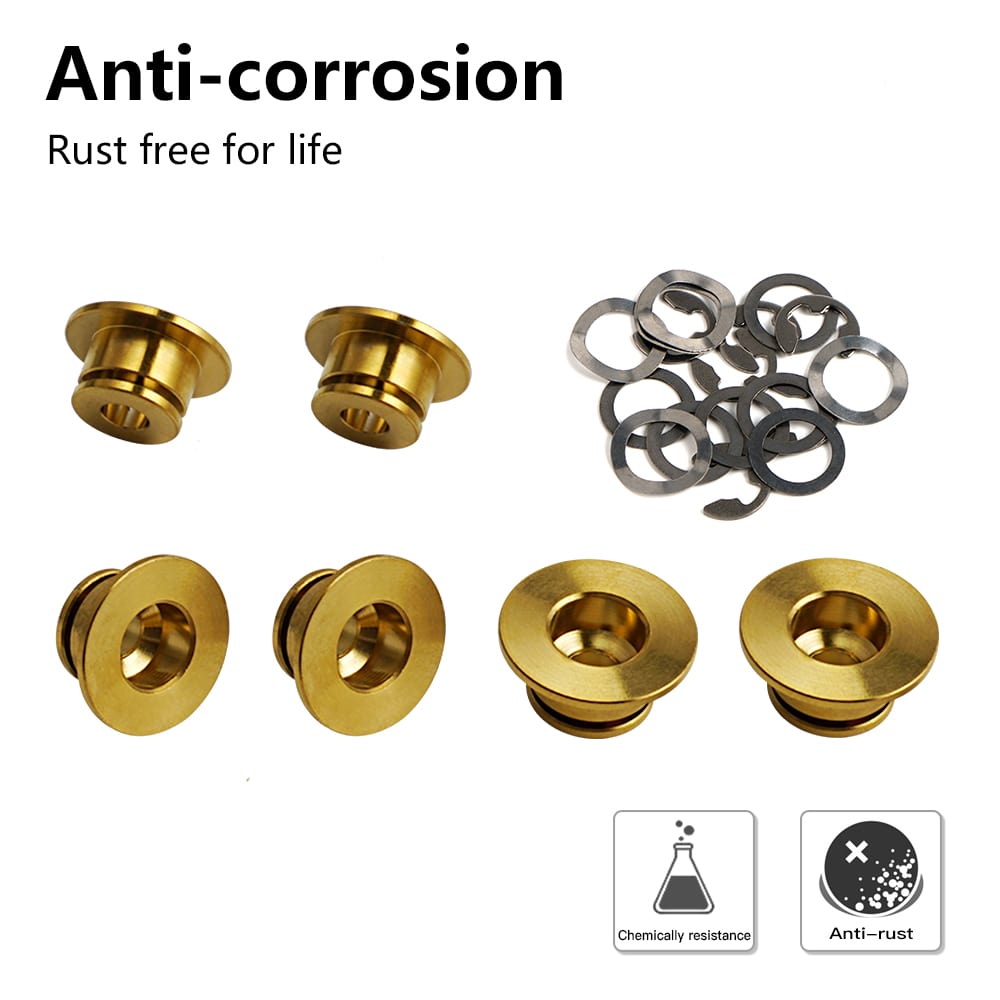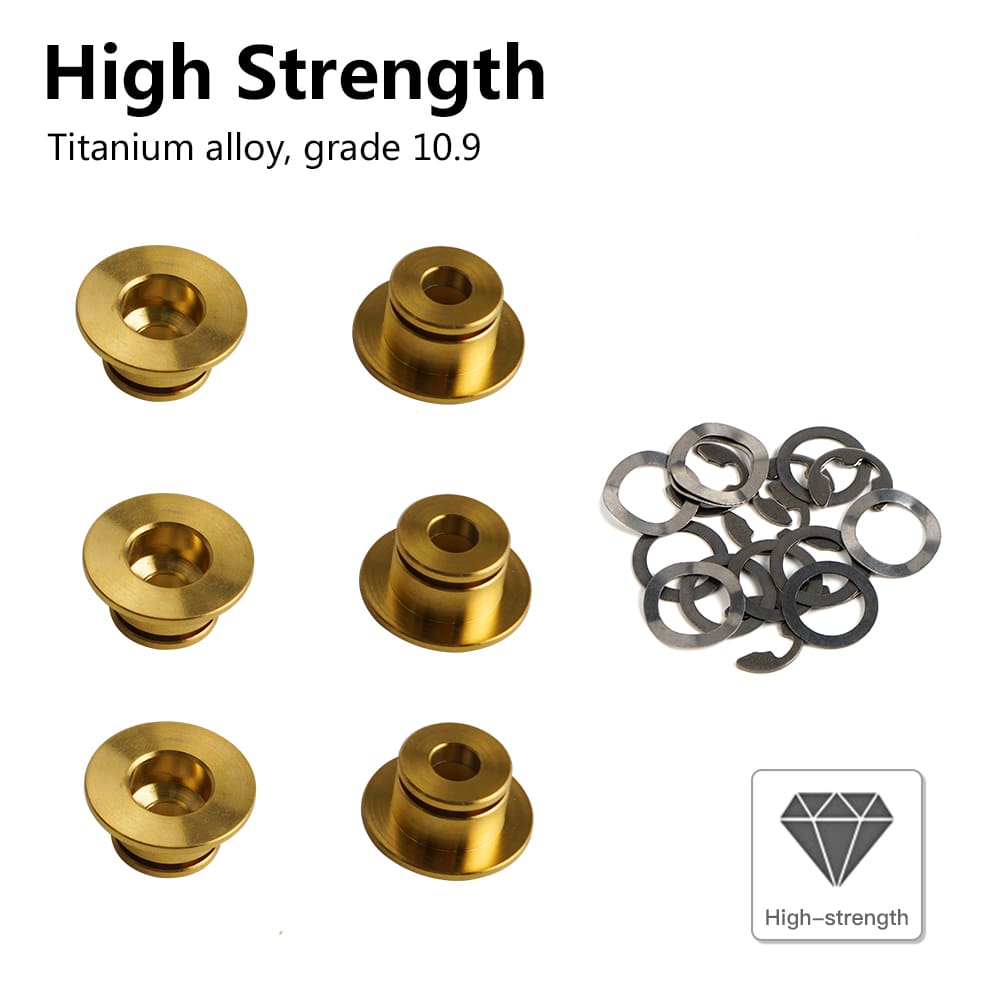 6 Sets Alloy Brake Disc Bobbins & Circlip 4.5-5.2MM
These are 6 sets Ti Alloy Motorcycle Brake Disc Bobbin Kits
Only Attempt to fit these if you have the required Engineering skills and tools
Don't throw your own discs in a bin when you can replace the rivets easily in a few minutes
Titanium Alloy Bobbins with stainless steel Eclips,1mm spacer and antirattle washers
The flat spacer measures 20mm OD. 14mm ID. 1mm thick.
Bobbins are 13.75 - 13.80 mm Dia. with a head of 19.6 mm.
Approx 5 grammes per complete bobbin.
Features:
Forge Machining 10.9 Grade Titanium Alloy
Rust-free,Anticorrosion,Lightweight,Temperature resistance, Good Performance
Perfect decor to beautify your brake rotor.
Improves your motorcycle's brake performance.
Item specifications:
Type: Brake Disc Bobbins & Circlip Sets
Material: Titanium alloy Bobbins, Stainless Steel E-clips, and washers
Color: Gold,

Titanium

Bobbins: 13.75 - 13.80 mm Dia. with a head of 19.6 mm.
Flat spacer: 20mm OD. 14mm ID. 1mm thick.
Weight: Approx 5 grammes per complete bobbin
Package Included:
Package Included:
6pcs Bobbins
6pcs E-clips
6pcs flat spacers
6pcs wave washers
Discs can vary from 6 - 12 bobbins,Pls place order base on your bike
Fitment:
Suitable for discs from 4.5 - 5.2 mm Manufactured thickness.
These are for Semi-floating application but can under certain circumstances be converted to Fully floating.
Some of the discs they will fit are:
Brembo.
Sunstar. (they will show the Sunstar Logo on the Carriers).
Galfer.
Braking.
Blackshadow-Uk.
Armstrong.
EBC. (Some Models) Please ask.
Yamaha. (some models).
Triumph. ( some models).
BMW. (some models).
Most Chinese discs
WILL NOT FIT these models 1200 & 600 Bandits. GSXR1100 and most early
Suzuki discs. These have 15.8 mm rivets....
Installation Note:
Pls contact us to request the video of the installation!
If you are unsure if they will fit either message us or make a gauge.
It's easy all you have to do is get 2 shims of thin metal or two pieces of a feeler gauge. sit them under the head of the rivet top and bottom and measure the gap.
Before you do anything to your discs view the Video of installation,If you drill one out and it's the wrong size it's too late.
This will NOT cure your discs if they are totally knackered and miraculously make them new again.
Basic tools and basic mechanical and engineering knowledge is all that are required.
Grinding the rivet head off with a 12" grinder at a million revs won't work.
Taking your time will!!!!!!
It's not Rocket Science just good old common sense some skill and a bit of care is what's needed.
Remember the rule "Check 10 times Drill once"
Once again remember if you don't have the skill or tools to do this yourself find someone with to correct skill who can do it safely.
Pls contact us to request the video of the installation!
If in any doubt CONTACT US.
Disclaimer:
Nicecnc Store parts are not sponsored or endorsed by, or affiliated with the brands its parts fit, including Harley-Davidson, KTM, Duke, Aprilia, Triumph, Husqvarna, Honda, Yamaha, Kawasaki, Suzuki, Beta, GASGAS, Sherco, Polaris, Can-am, Arctic Cat, Ski-Doo, Piaggio, Ducati, MV Agusta, Moto Guzzi, Benelli, Buell, CF-Moto, Enfield, Hyosung, Indian, etc.