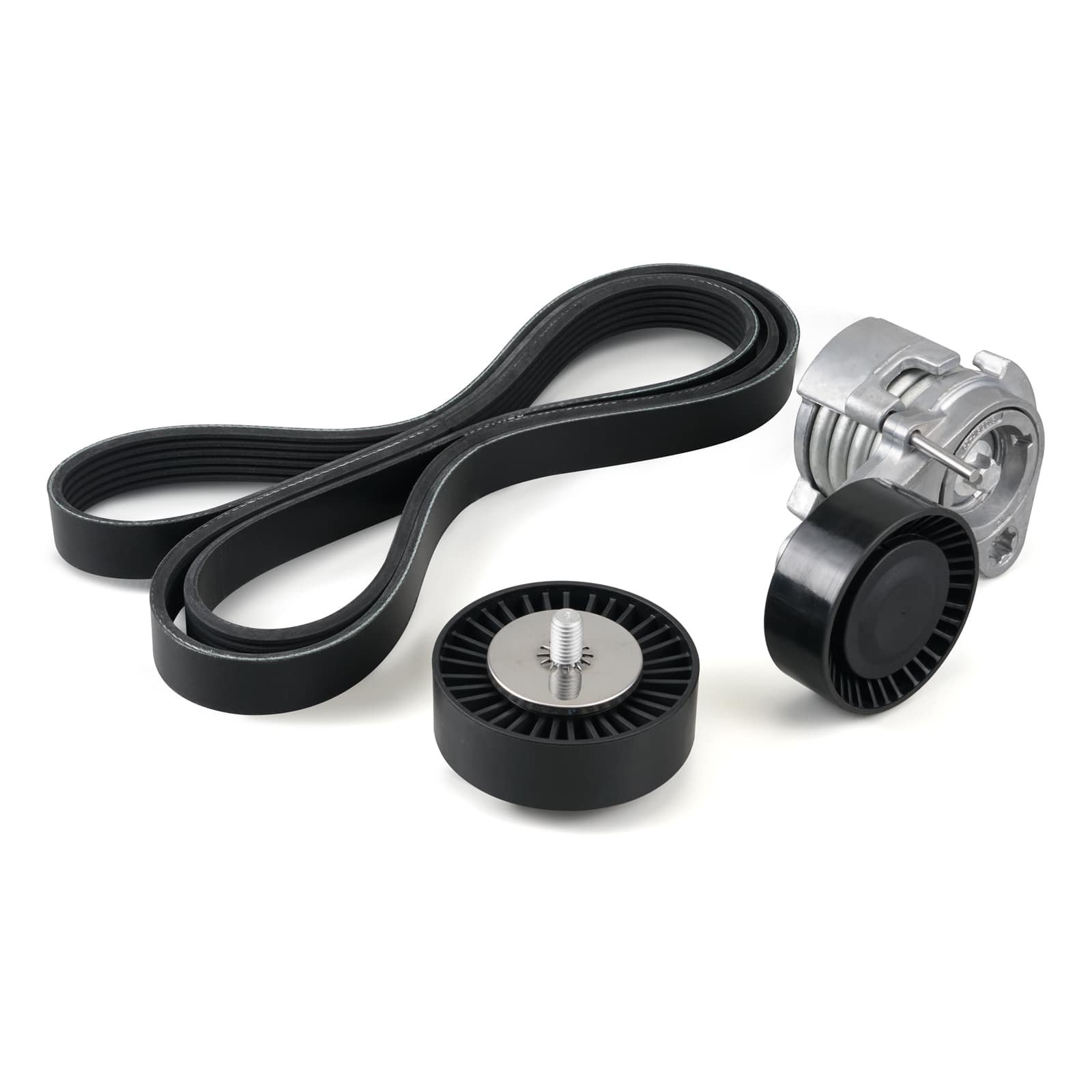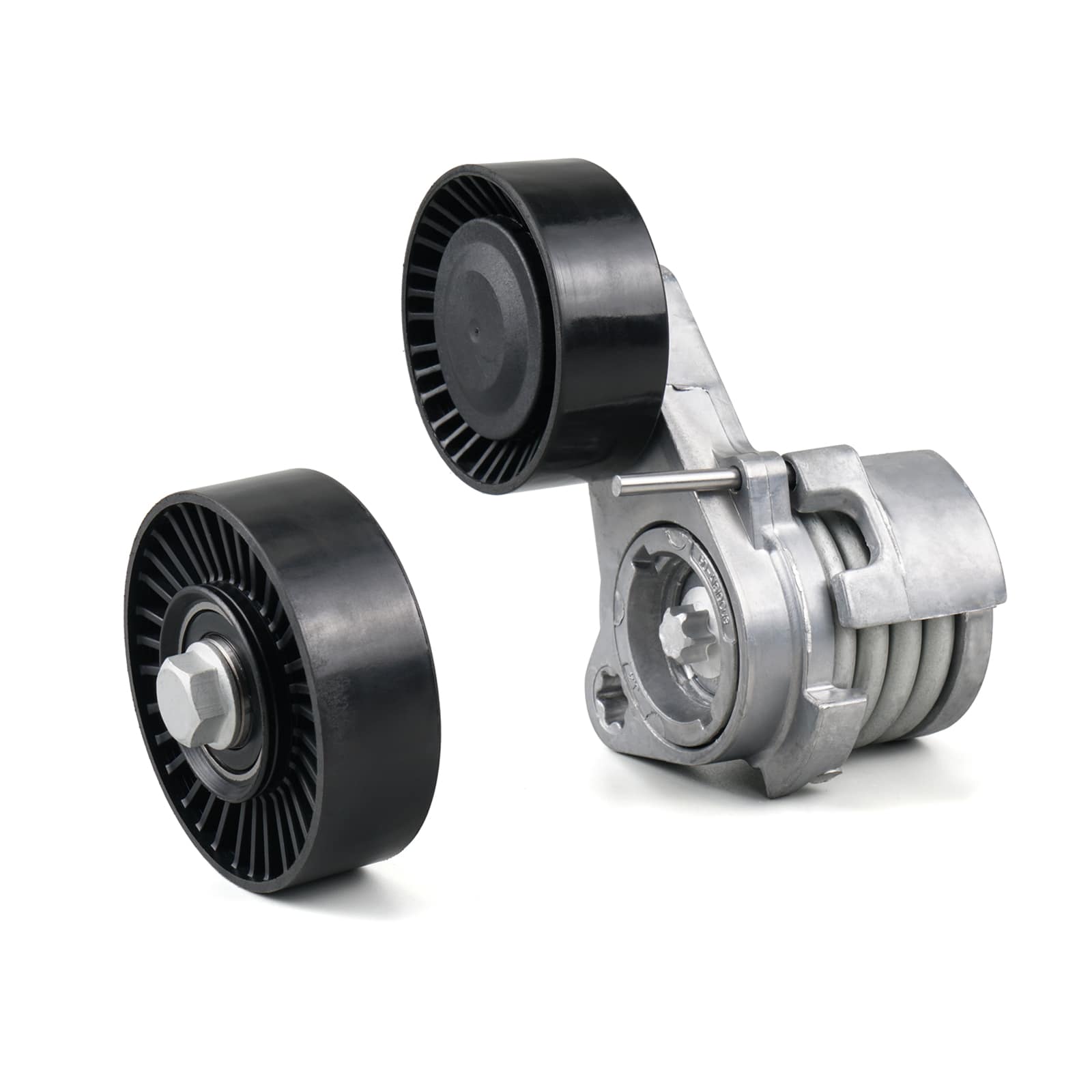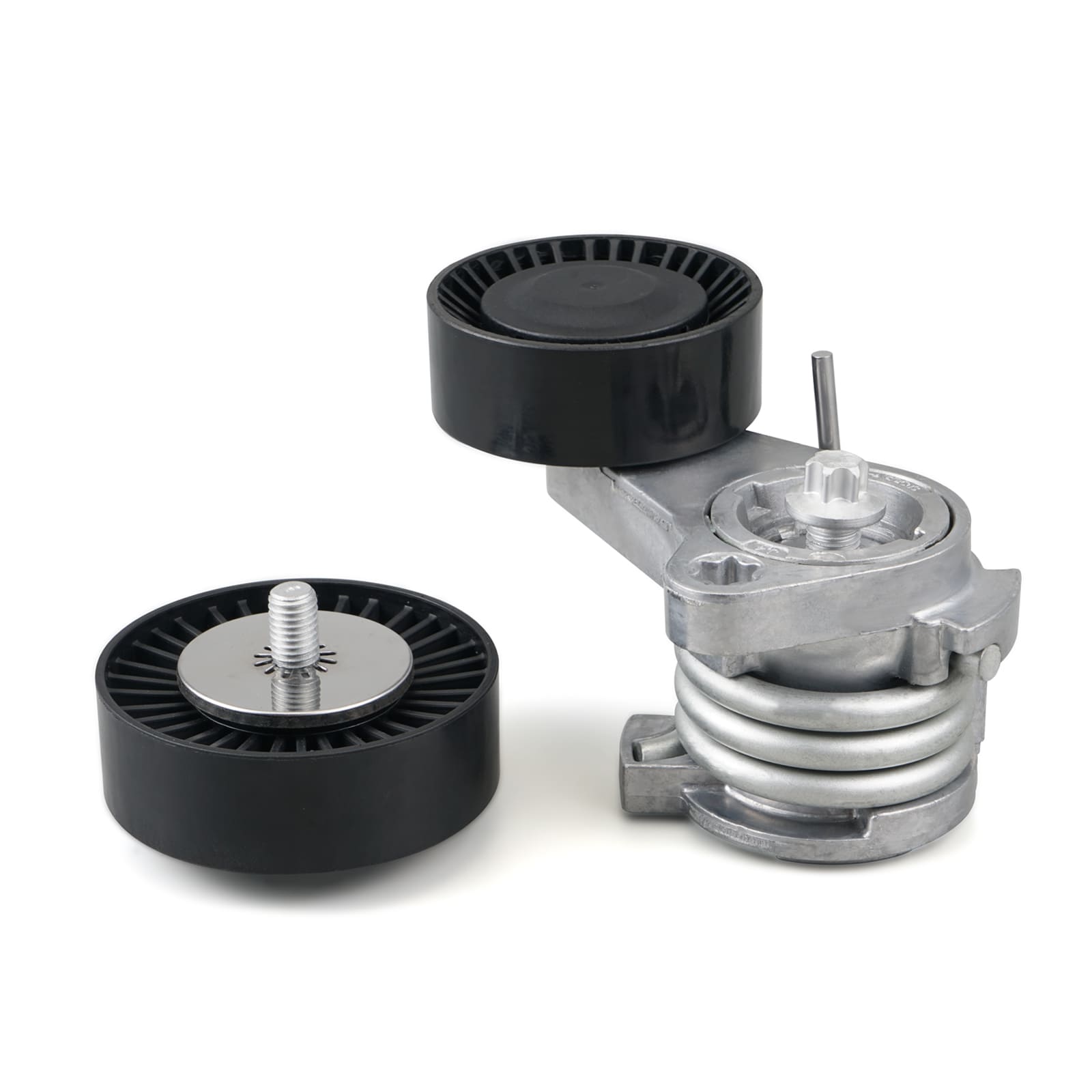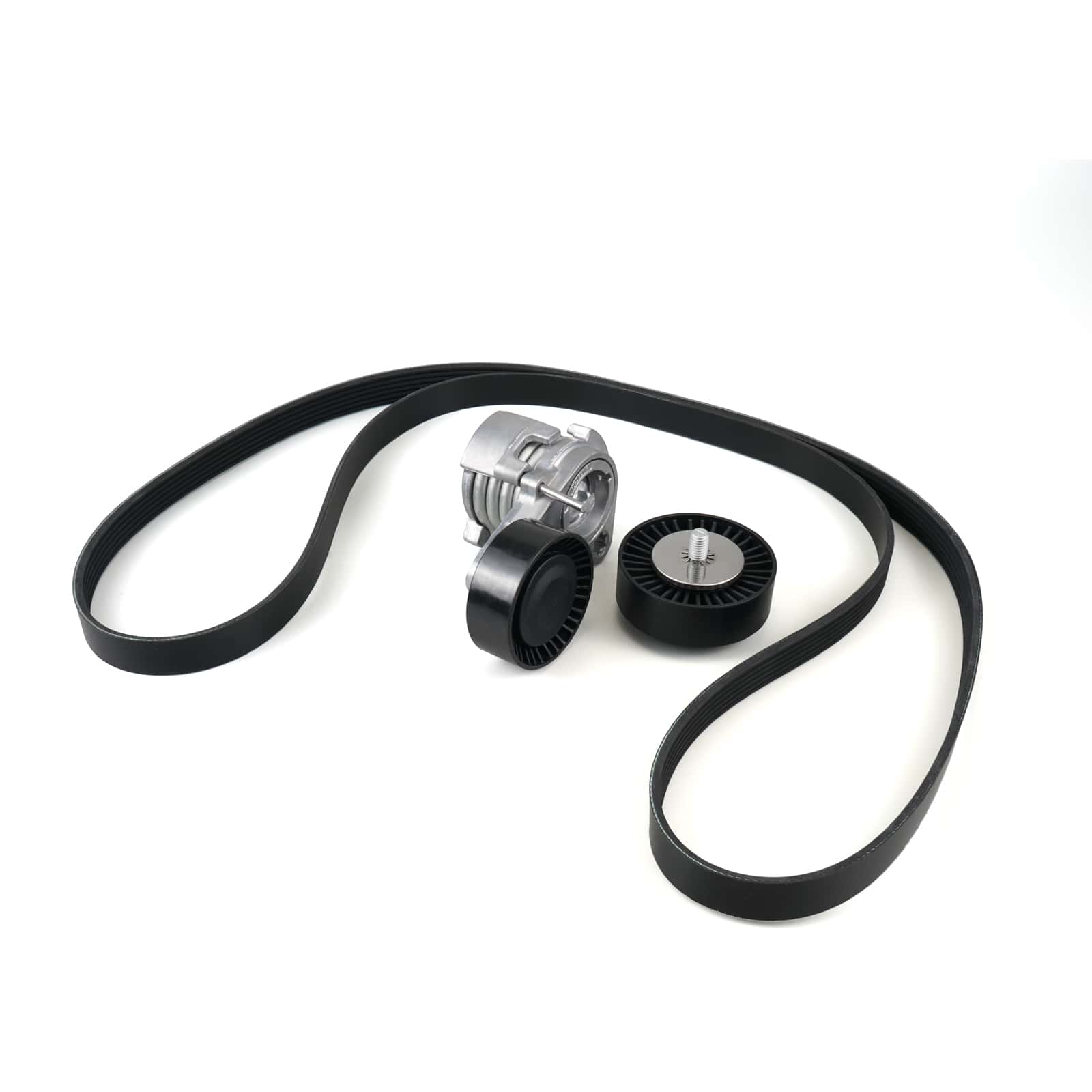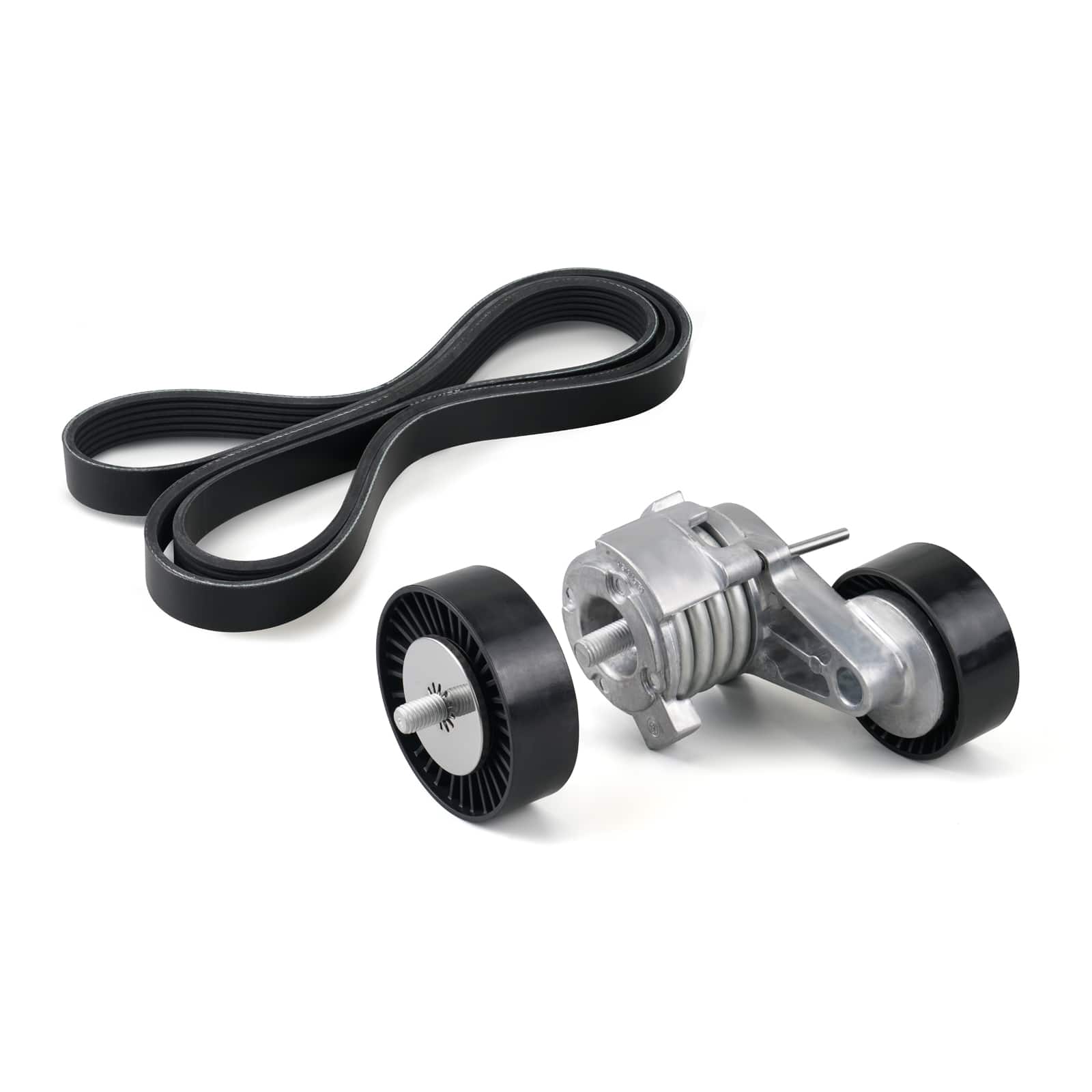 Drive Belt Pulley Tensioner Kit with Bolt For BMW E90 E91 E92 E93 E60 E83 N52 Engine
Features:
As these cars get older and more miles are driven, the belt tensioner needs to be replaced along with the belt. If the tensioner wears out, just replacing the belt will not solve the problem like looseness and squeaking. Our high-quality drive belt pulley tensioner kit offers reliable quality and a precise fit for proper tension. Buying the kit as a one-off will save your time and money compared to buying these parts separately.

Package included:
1×Main Drive Belt
1×Belt Tensioner
1×Drive Belt Idler Pulley(Without Dust Cover)
1×Belt Tensioner Bolt

Fitment:
For BMW E82 2008-2012 128i
For BMW E90 2006-2011 325i 325xi 328i 328xi 328i xDrive 330i 330xi-Sedan
For BMW E91 2006-2012 325xi 328i 328xi 328i xDrive - Wagon
For BMW E92 2007-2013 328i 328xi 328i xDrive - Coupe
For BMW E93 2007-2013 328i - Convertible
For BMW E60 2006-2010 525i 525xi 530i 530xi 528i 528xi 528i xDrive
For BMW E83 2006-2010 X3 3.0i X3 3.0si

Disclaimer:
Nicecnc parts are not sponsored or endorsed by, or affiliated with the brands its parts fit, including Porsche, Subaru, Jaguar, BMW, Isuzu, Chrysler, Dodge, Jeep, Buick, Cadillac, Chevrolet, GMC, Volvo, Land Rover, Oldsmobile, Pontiac, Ford, Lincoln, Mercury, Acura, KIA, Nissan, Infiniti, International Harvester, Mitsubishi, Audi, Lexus, Toyota, Mazda, Volkswagen, Suzuki, Saab, Honda, Alfa Romeo, Saleen, Mercedes-Benz, Nash, Hummer, Freightliner, Datsun, Saturn, Turner, Geo, Lada, Fiat, Daihatsu, Opel, Vauxhall, Sabra, Tesla, Ram, Rover, Skoda, Healey, Mini, Smart, Scion, Renault, Seat, Peugeot, Merkur, Astra, Tucker, VW, Routan, Tiguan, Touareg, Jetta, Gti, Passat, Golf, Bosch, Denso, Holden, Chery, Mercedes Benz, Holden Special Vehicles, Hyundai, Trabant, Citroën, Freightline, etc.