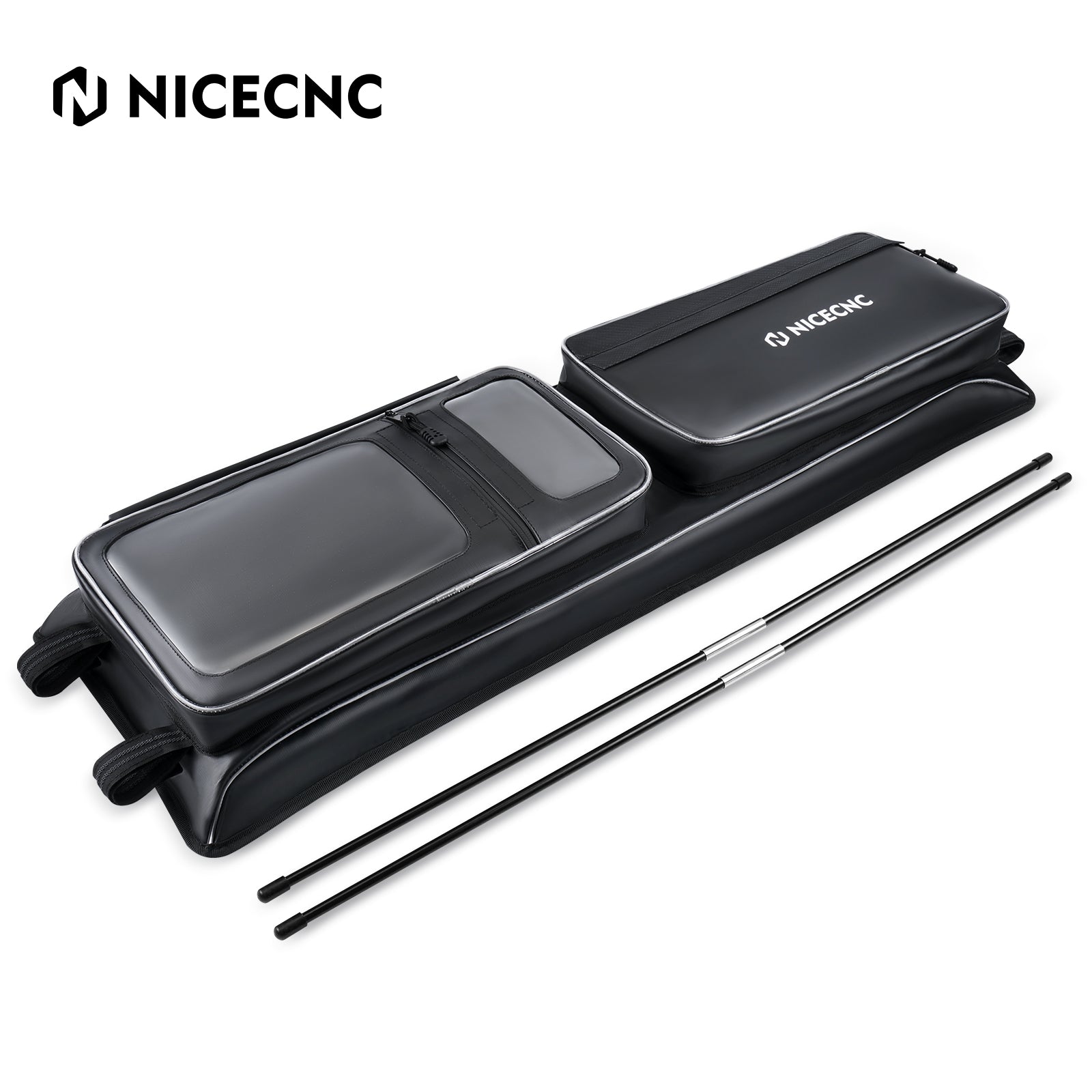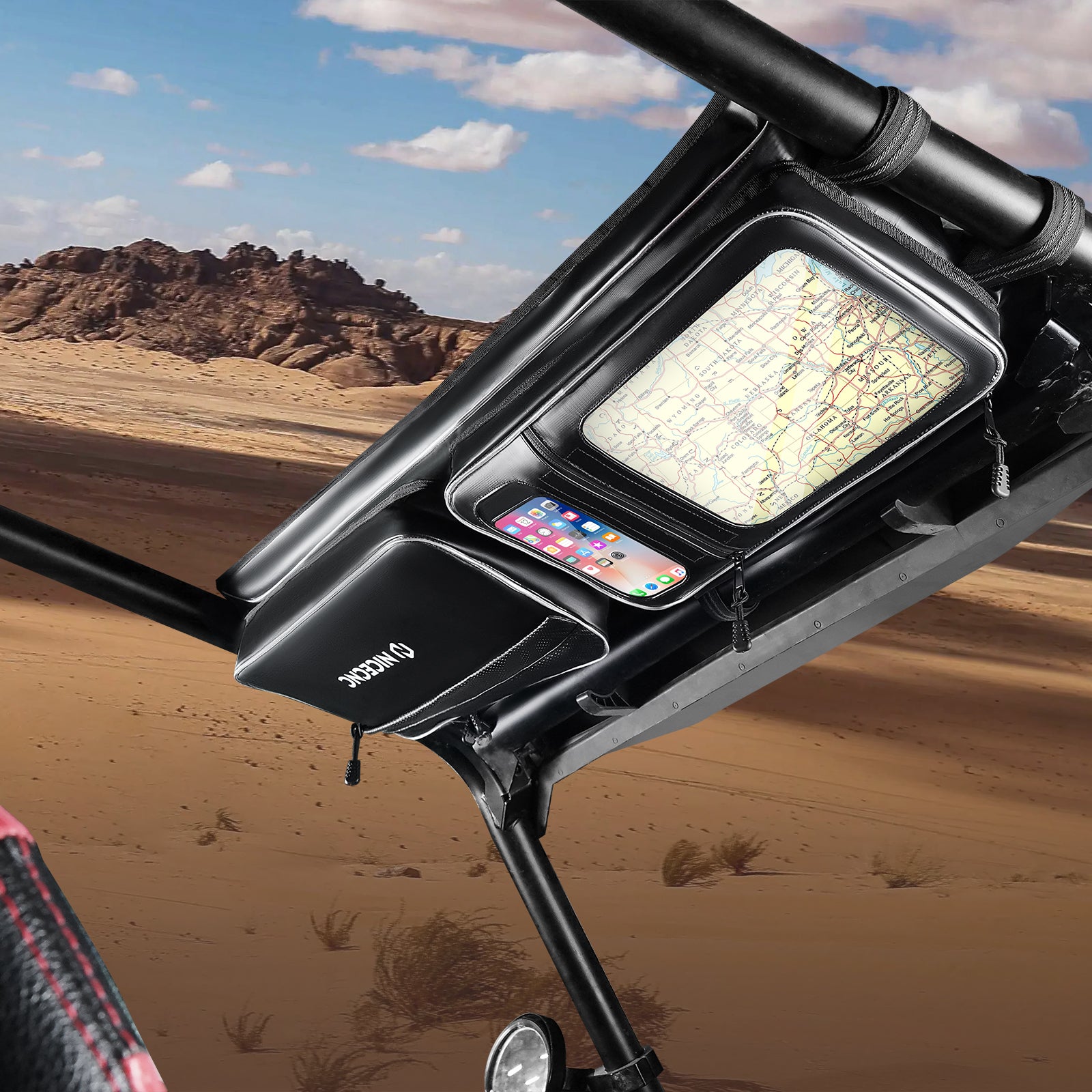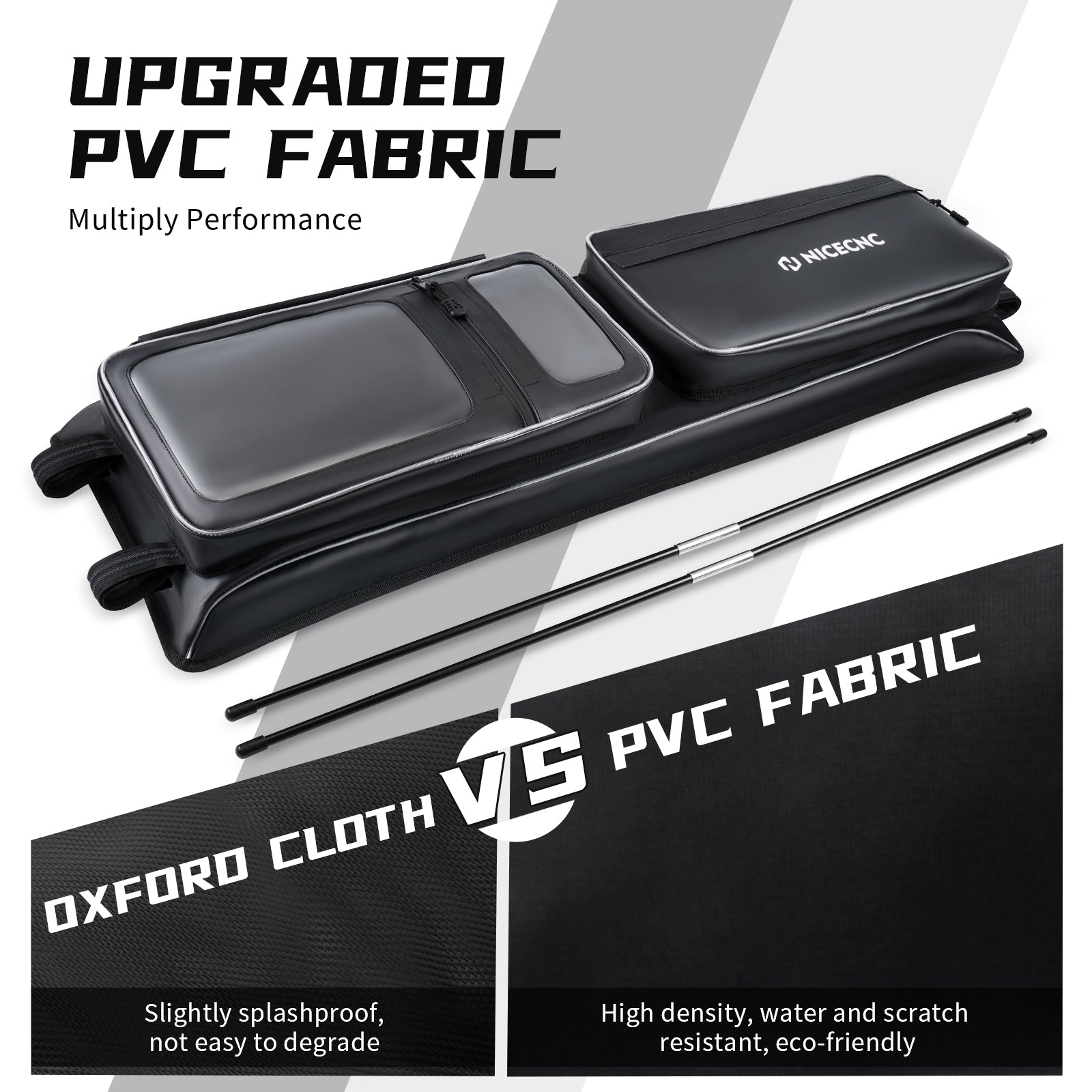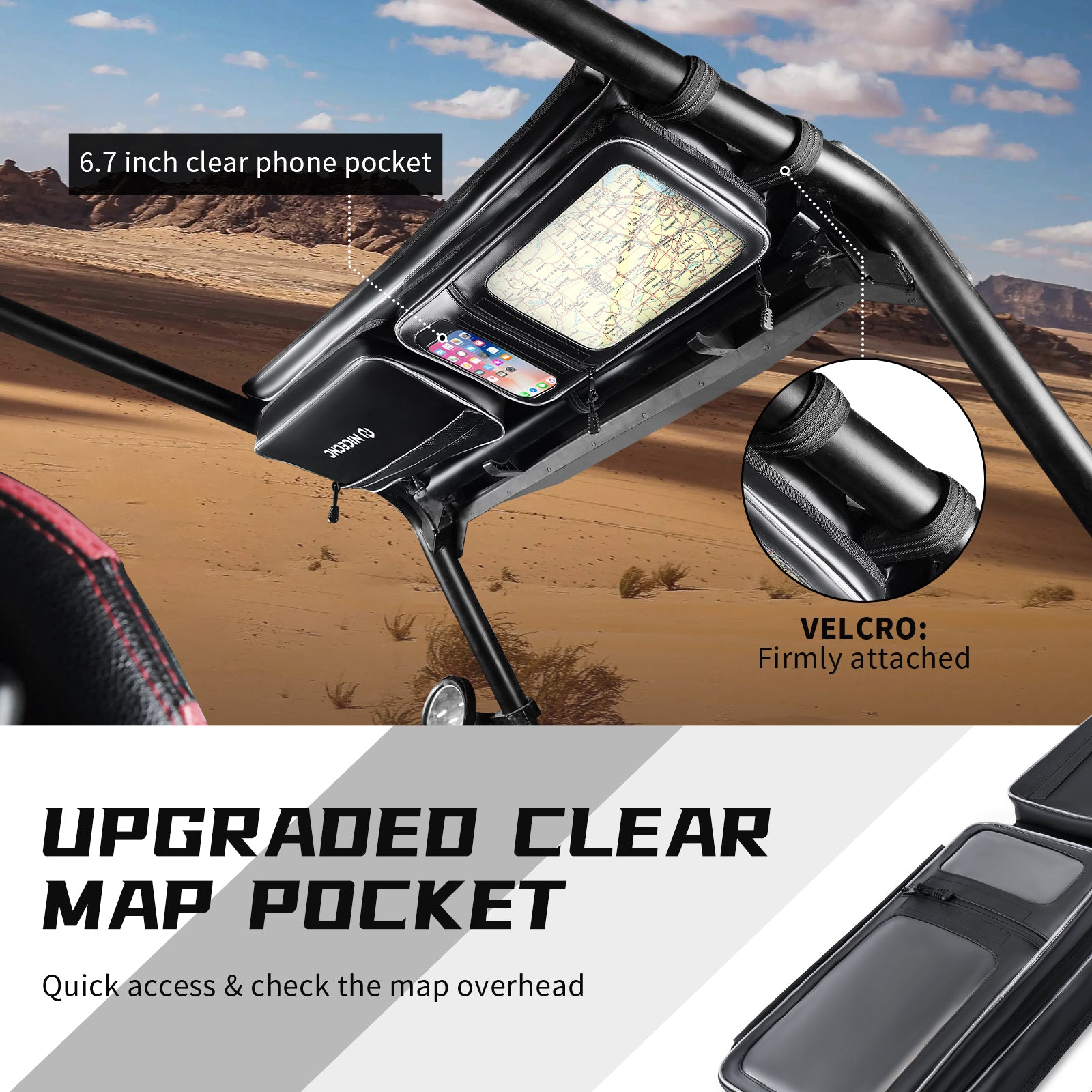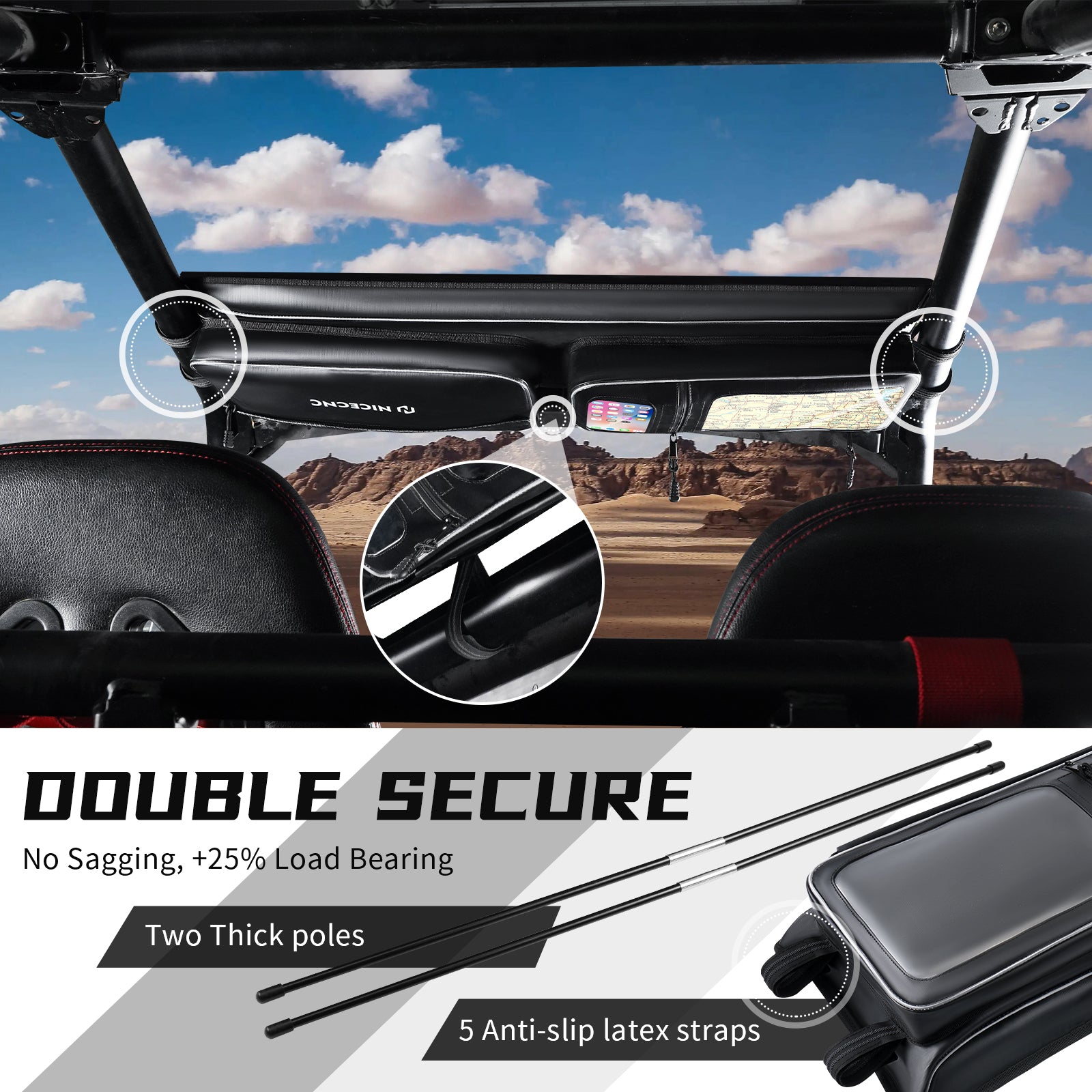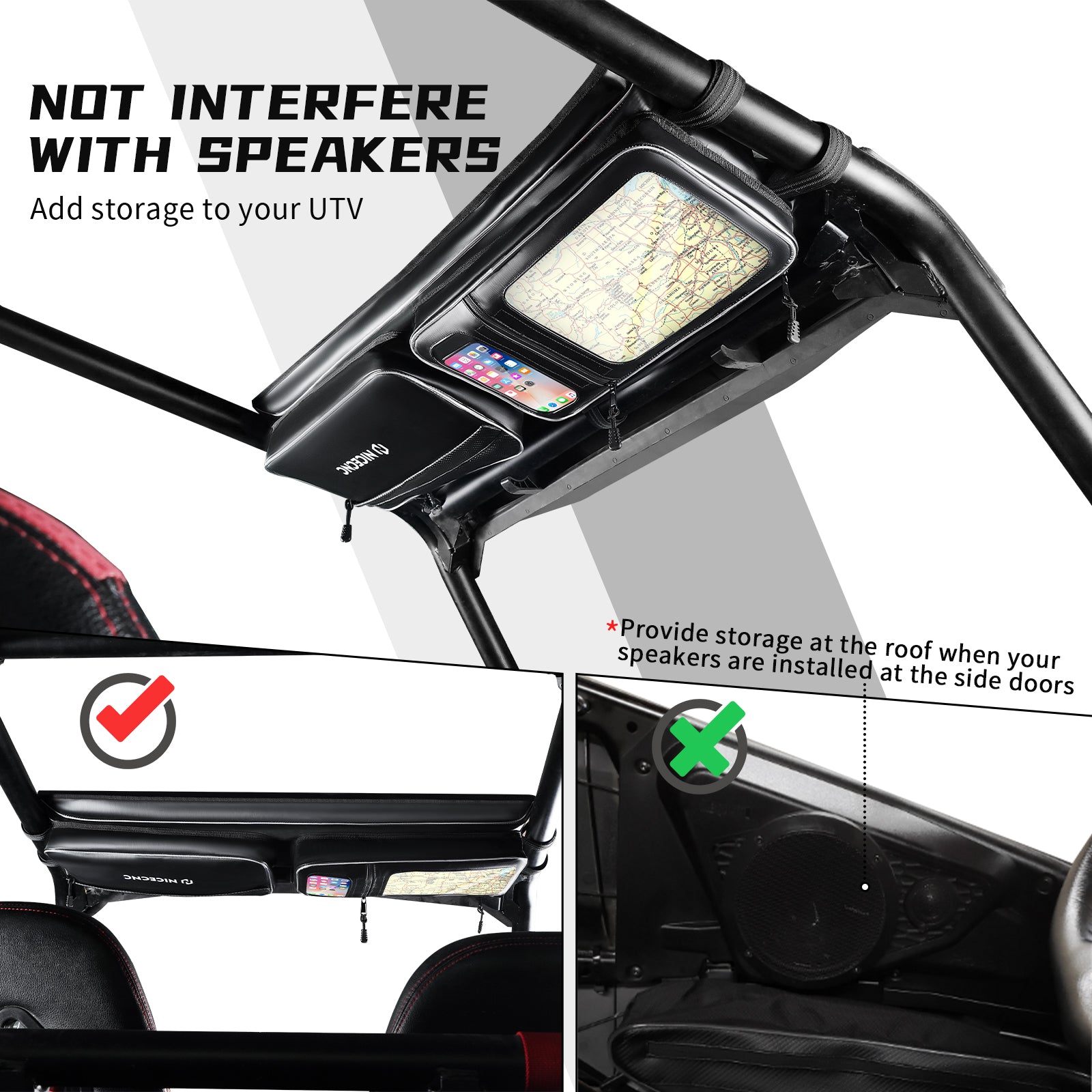 Upgraded UTV Roof Bag PVC Overhead Storage Tool Bag Large Map Pouch For Polaris RZR XP 1000/S 4 1000 Turbo
This product is vehicle specific.
Select a vehicle to ensure fitment.
WILL NOT FIT
Change Vehicle
Features:
Premium Material-Made of high-density PVC fabric, IPX4 water-resistant easy withstand light rain, wear-resistant and resistant to most kinds of weather than those normal made of 1680D 900D oxford fabric.
Keep in Shape- In order to prevent sagging, this upgraded RZR overhead bag adopt sturdy PVC material, additional middle Velcro to attach, and two stretchable poles to hold, which makes withstand more weight, providing a exquisite look.
Double Secure-Comes with water-repellent PU zipper and mud cover, effectively withstand light rain, no seepage and prevent mud stuck on zipper, which provide longer service life.
Multi-pocket-Has a large transparent map pocket and cell phone pocket, and the inside has a 10L capacity main compartment and subcompartment, easily fit your equipment such UTV whip lights, long length stuff.
Easy to Install-No drilling or modification is required, only takes a few minutes to install the RZR 1000 Roof bag. 
Item Specifications:
Brand: NICECNC
Material: PVC fabric
Item Dimensions: 33.86 x 7.68 x 1.57 inches
Pattern: Solid
Package Included:
1 X ROOF BAG
Fitment:
For Polaris:
RZR XP 1000 2014-2023
RZR XP S 1000 2014-2023
RZR XP 4 2014-2021
RZR XP 4 1000 2014-2021
RZR XP Turbo 2016-2019
RZR XP 4 Turbo 2021-2022
RZR S 1000 2016-2021
RZR S 4 1000 2019
RZR S 900 2018-2021
RZR 4 900 2015-2017
RZR 900 2014-2021
RZR PRO XP 2020-2022
TIP: It will fit even if your UTV with a roof, you can loosen the front bolts on the roof to get the straps under it, and just tighten them back down.
Installation Steps:
(1) Use two stretchable poles to hold the UTV storage bag.
(2) Attach the roof frame with fiveanti-slip Velcro loops
Disclaimer: 
NiceCNC parts are not sponsored or endorsed by, or affiliated with the brands its parts fit, including Porsche, Subaru, Jaguar, BMW, Isuzu, Chrysler, Dodge, Jeep, Buick, Cadillac, Chevrolet, GMC, Volvo, Land Rover, Oldsmobile, Pontiac, Ford, Lincoln, Mercury, Acura, KIA, Nissan, Infiniti, International Harvester, Mitsubishi, Audi, Lexus, Toyota, Mazda, Volkswagen, Suzuki, Saab, Honda, Alfa Romeo, Saleen, Mercedes-Benz, Nash, Hummer, Freightliner, Datsun, Saturn, Turner, Geo, Lada, Fiat, Daihatsu, Opel, Vauxhall, Sabra, Tesla, Ram, Rover, Skoda, Healey, Mini, Smart, Scion, Renault, Seat, Peugeot, Merkur, Astra, Tucker, VW, Routan, Tiguan, Touareg, Jetta, Gti, Passat, Golf, Bosch, Denso, Holden, Chery, Mercedes Benz, Holden Special Vehicles, Hyundai, Trabant, Citroën, Freightline, etc.